Doing
business
in
Europe
with
Dutch
Business
Partners
(DBP)
We see more and more Indian companies showing interest in the European market.
A special focus is on innovative developments in agribusiness, the (manufacturing) industry and healthcare institutions.
In order to establish cooperation and a market within Europe, our Indian clients make use of our accessible DBP base. For decades, we as DBP have been providing this base service from Business Centre 't Klooster in Venray (Limburg), The Netherlands.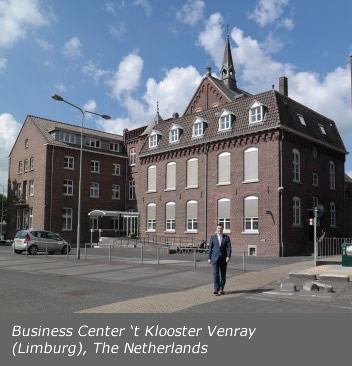 Advantages of Venray (Limburg), The Netherlands, according to our Indian clients:
Good infrastructure: central location in the European logistics Hotspot:
o Easily accessible by car, flight connections and container transport (port, train and truck)
o The hinterland of Rotterdam (The Netherlands) and good transit to the rest of Europe,
such as the Ruhr area (Germany) and Antwerp (Belgium)
o Proximity to Maastricht University.
English is a common business language within the Netherlands.
Excellent business climate:
o Affordable location costs
o Low and stable taxes
o Healthy work ethic ('de Peel')
o Nice and clean living and recreation environment.

Over the past decades, more than five hundred international companies have chosen Limburg as a base for their pan-European activities.
Also interested in doing business in Europe?

Dutch Business Partners will help you with all your needs and concerns, from the first contact and explorations up to and including aftercare.
With our extensive network, we can support you to get in touch with a wide range of representatives in the financial sector, professional services, logistics service providers, scientific organizations and government agencies.
Contact Dutch Business Partners for more information.
Dutch Business Partners, partner in profit generating advice and successful business.