Dutch
Business
Partners
and
Maier+Vidorno
sign
MoU
to
support
Dutch
companies
to
do
business
in
India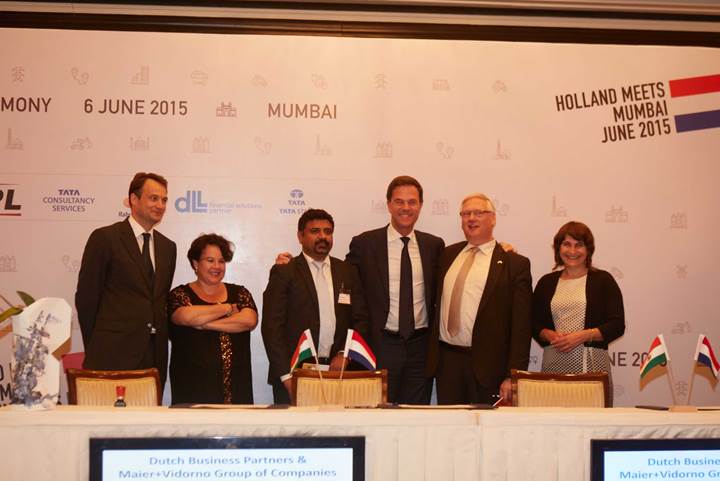 India is an emerging market with lots of unexplored opportunities alongside the growing population and consumption market. The government´s thrust on the ¨Make in India¨ campaign has further made it an even more attractive business destination.
The campaign aims at offering a business-friendly environment to foreign companies to invest in India. Recognising this as a favourable opportunity, Dutch Business Partners and Maier+Vidorno have decided to join forces to facilitate the set up and operations of Dutch companies that want to mark an entry in the Indian market. The two companies signed a Memorandum of Understanding (MoU) on 6th of June 2015, in Mumbai, in presence of Dutch Prime Minister Mark Rutte, accompanied by Minister for Foreign Trade and Development Cooperation Lilianne Ploumen, Minister for Economic Affairs Sharon Dijksma and Consul General Geoffrey van Leeuwen, during the Dutch Business Delegation to India.
The NICCT (Netherlands India Chamber of Commerce and Trade) stimulated Dutch Business Partners and Maier+Vidorno to work together. Dutch Business Partners hold expertise in project management support and manufacturing set up in India, while Maier+Vidorno´s proficiency is in providing support to foreign companies in their India business and administration. With their combined competencies, the two companies will extend their unique speciality to Dutch companies in India.
Link to Maier+Vidorno website: Maier+Vidorno